Food For Thoughts: things we learnt at our Mental Health Community Evening with DBS Music (pt. 2)
Posted on:

23 July 2018

By:

musicpool intern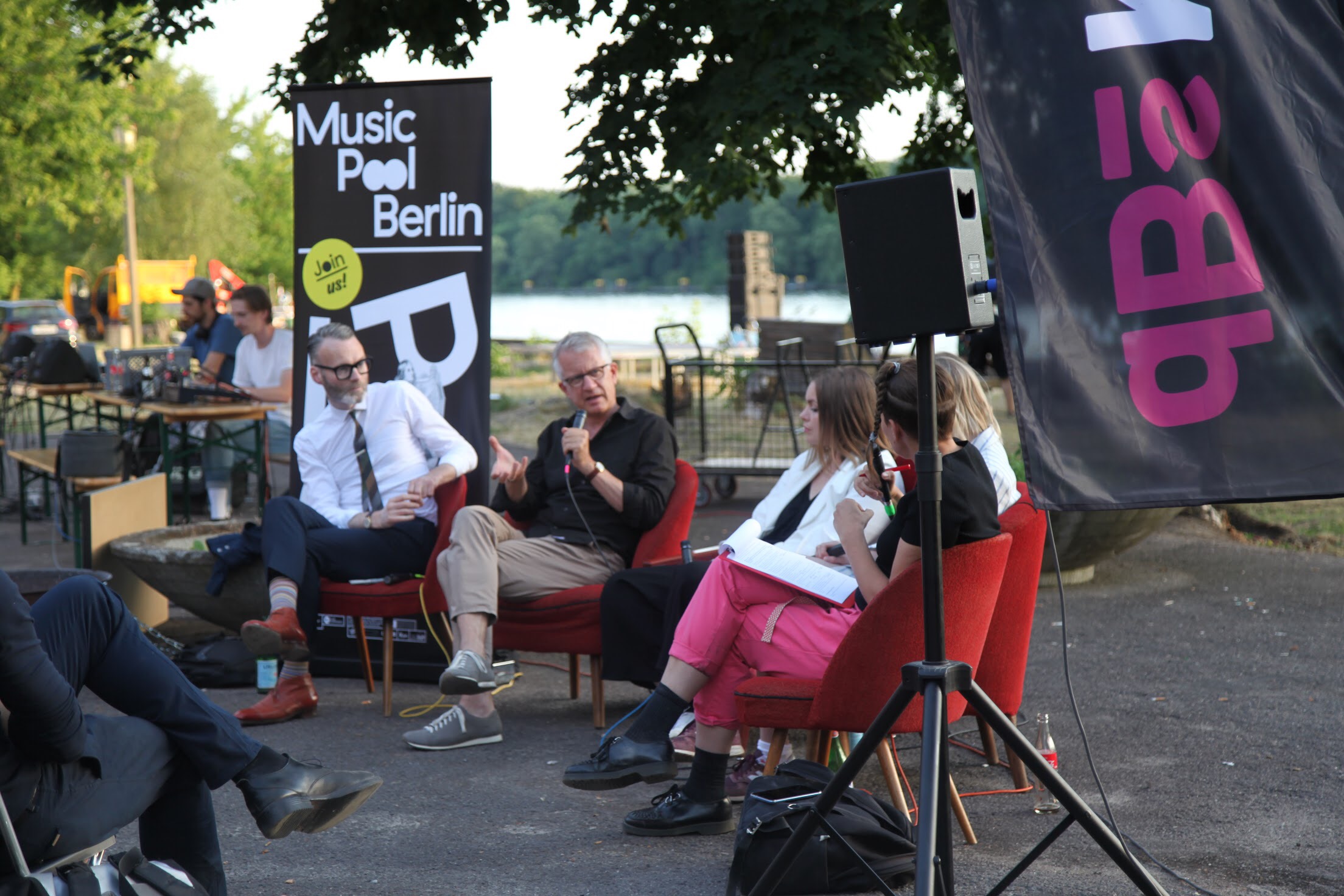 June 2018 will be remembered in the history of Music Pool Berlin as our Community Evening for that month was settled in one of the best location we ever had for an event so far, namely the sunny riverside of Funkhaus Berlin. Partnering with music production school DBS Berlin, our panel was dedicated to the topic of Mental Health and Creativity. Guest speakers included producer and electronic music artist Emika, artist manager Andy Inglis, head of artists management at K7! Rachael Patterson, and philosopher and counsellor Florian Goldberg; our own Andrea Goetzke was in charge of moderating the talk.
Writer Dee Cunning has summed up for you some of the issues and suggestions made by our panellists. Here below we want to share an extract of her latets write up, originally published via DBS Music Blog. The first part of the article can be read here. For a quick recap on the first part of the writing, have a look at the video below!
Things we learnt at Music Pool Berlin x DBS Music Mental Health Community Evening
Create a good routine
Never underestimate the power of a good routine – not only to become successful, but to safeguard your mental well-being. Whether you have the self-discipline to create your own work structure, or you need others to help you with that, it's essential to stay deadline-motivated and take a proactive role in your career. One of Rachael's clients, for example, took the initiative to request a weekly schedule for the whole of the coming year. She was positively surprised!
A great way to add some structure and support your lifestyle is to get a part-time job, Rachael reiterated: "It can actually be helpful to have a part-time job because you feel more committed to doing what you love in your downtime – especially if you have a job which gives you both the routine and flexibility to do these things."
Networking is essential
And our panellists meant networking in both senses of the word: having a strong support network of close friends and family and striving for like-minded business connections. Although Emika described herself as sometimes feeling like she's "on an island" having taken up so much responsibility for her business, she also stressed the importance of having a great team.
"You need advocates," she insisted, "you need people that go into the world and say, this person is really good… People either hear about you because someone's talked about you, or they hear your music, or they hear your music and then people talk about you. That's how you generate some kind of buzz and some kind of opportunity and doors start to open."
A quick fix won't make it go away
There's no avoiding it: the music industry has a drug and alcohol problem. As Andy pointed out, using alcohol to cope with stress has been normalised. "You don't get dentists who get nervous and have a couple of shots of whiskey before they take someone's tooth out," he said, "but we seem to think it's okay to do that – to get drunk before you have to do your job – because it's so ingrained in this culture…and you're strange not to do that."
And where quick fixes are concerned, reaching for medication isn't always the best option either. After anxiety meds numbed her Glastonbury experience, Emika reflected, "you should never need to go and take some medication in order to go on stage." "That's the thing about mental health," she continued, "it's so easy to just be given some drugs, or you get given a list and told to go and find a therapist, [but the therapists are all booked up] so you just don't do it and it's much easier to just take a tablet."
So, what about the ultimate feel-good pill: success? Unfortunately, according to Florian, the gratification of achieving your ambitions will never be a bandaid to your problems. One of his clients believed that fame would heal the wounds of his traumatised past, he told us. "Then, all of a sudden, he had all that. He was on TV, his posters and advertisements were everywhere, the CDs were out. He had all of what he always wanted, but then he realised he still feels shit. The pain is still there, nothing has changed from the inside."
The best way to deal with mental illness, in Emika's book, is taking the time to proactively ask questions: "practise being in touch with yourself and looking inwards and try to understand your emotional world." And, of course, to keep creating: "It might knock you down for a bit, but if you keep writing music, it can keep you connected to yourself. I think that's how I've managed; I've never not written music. I always had a feeling that that's what was going to save me and keep me going." The rest is all about communication: talking to those close to you and working to find a therapist who really listens. Remember, healing takes time, patience, and commitment.