Sustaining Creative and Critical Communities
Wednesday, 10 October, 2018 - 19:30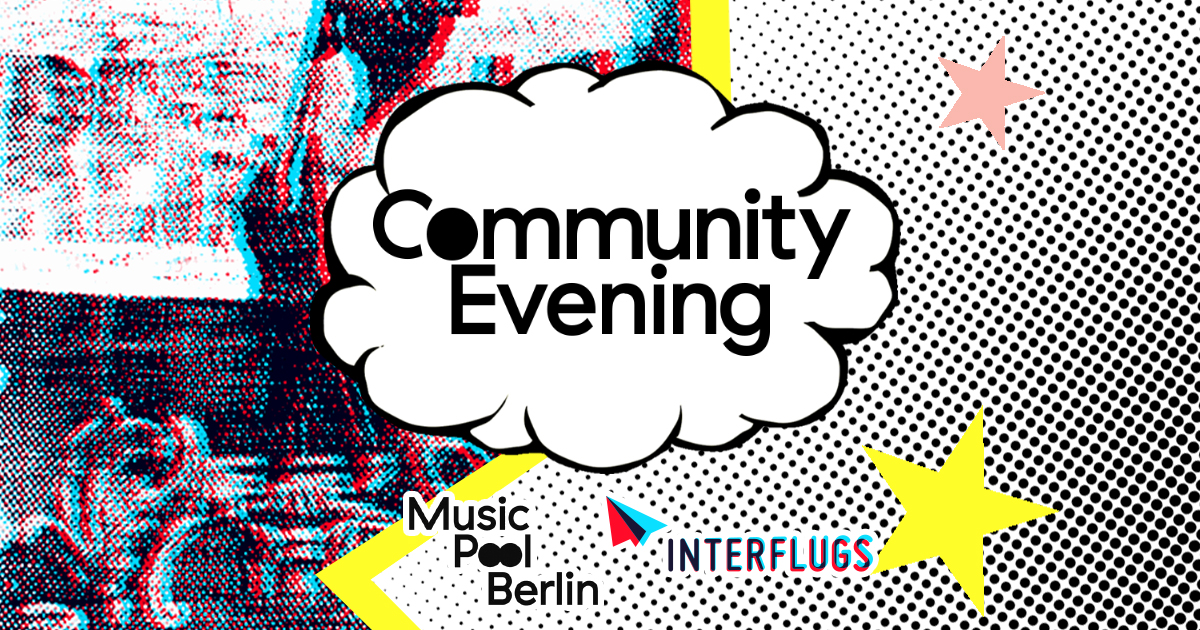 This evening looks into different models, experiences and utopias of organizing in network or collective structures, and of inspiring community building - all with a focus on artists, musicians, and people working in music. How can we build creative and critical ecosystems that are based on mutual support and working together? How can we shape and create our creative and critical spaces, structures and interactions - so that we all can thrive in them together in the longer term?
The discussion brings diverse community experiences together - from international digitally connected networks to locally organizing collectives. A focus will be the sustainability of community structures and processes. How to deal with issues that may lead to a break-up of community structures, like conflict, imbalanced responsibilities, draining decision making processes etc.? What are best practices, and what is unavoidable but worth the effort? How can people stay inspired, committed, interested? Does the size of a group matter? Who is in and who is out? How to deal with money, how with ownership? How to define individual/community success? What are experiences with legal and administrative structures in running a collective? What are different models of working in a network, collective or community and what can they achieve?
Music creates community, maybe more than any other artistic expression. The discussion will also take a look into supporting and empowering the communities that form as a result of our practice - like people that gather regularly for a party series or regular guests at a specific music venue. Music helps like minded people find each other IRL. And through this more can happen eventually than just this one party series - e.g. through the connections and conversations established, through people getting inspired to do their own activities (together). What are experiences with community building around music, and especially with a connected critical attitude?
"Creative" and "critical" are regarded closely together in this conversation, dealing with communities or collectives that share some political, social or cultural ideal as a foundation of their practice.
The event is organized in cooperation between Music Pool Berlin and Interflugs.
Participants:
Susanne Kirchmayr aka Electric Indigo works as musician, composer and DJ. She started her career 1989 in Vienna, lived in Berlin from 1993 to 1996, founded the database and network for women in electronic music and digital arts "female:pressure" in 1998 and has received several awards in Austria and Germany. Her debut album "5 1 1 5 9 3" was released on Imbalance Computer Music in spring 2018.
Ari Robey-Lawrence aka The Neighbourhood Character is a Berlin-based producer and selector who hosts a monthly show at Berlin Community Radio. Her Ph.D research, Shaking Habits (Goldsmiths UK), aims to enumerate strategies implemented by marginalised electronic musicians and performers who incorporate multicultural politics and praxes of difference into their creative persona(s), or into their unique approach(es) toward working in the dance music industry. Ari has recently spearheaded the establishment of the wood // work collective, an intersectional and non-binary / queer collective conceived with the purpose to create alternative avenues for socio-cultural mobility, professional self-empowerment, and transnational interchange in creative industries. Since 2014, Ari acts as a core co-organiser and a resident DJ at Raumweiterungshalle.
İpek İpekçioğlu aka DJ Ipek is a Berlin/Istanbul based DJ, producer and curator. Her work focuses on women-, migration-, queer and gender-related issues in contemporary and daily socio-political levels. DJ Ipek has performed in reputational electronic music festivals and has participated in a variety intercultural acts around the globe. In 2017, she has curated disPlaced – rePlaced: Cultural Transition of Istanbul and Berlin at Radialsystem, Berlin.
Daniela Seitz is a researcher, curator, DJ and cultural manager who makes things happen. As director and co-founder of Creamcake — a platform dedicated to exploring the impact of the Internet on music at the intersection of art and technology - Seitz creates new spaces for action and reflection. Approaching digital change with a fundamental openness and flexibility, she initiates and organizes concerts, performances, workshops, lectures, digital projects, and exhibitions. These include political event series Europool, experimental conference '<Interrupted = "Cyfem and Queer>', and an annual "new hybrid" festival called 3hd. Cooperating with a number of institutions, Creamcake is positioned as an open and queer organization, presenting visionary, experimental and non-conformist sounds from the outset.
LINNÉA - Born in Sweden and currently based in Berlin, Linnéa Palmestål is a resident DJ at the popular TRADE party at OHM, as well as the main teacher and co-founder of the No Shade mentoring and training program for female, trans and non-binary beginner DJ's - that is slowly growing into a collective. LINNÉA's energizing, au-courant sets span glossy trap, futuristic grime, R&B, neo-reggaeton and other hybrid styles that challenge the Euro step/touch hegemony. LINNÉA's first EP is currently in the works and a release is to be expected in 2018.
DJ: ĀBNAMĀ - https://soundcloud.com/abnama