NFTs, DAOs and the decentralized web - What is in web 3 for music and musicians?
Tuesday, 14 September, 2021 -

19:00

to

22:00
House of Music, Revaler Str. 99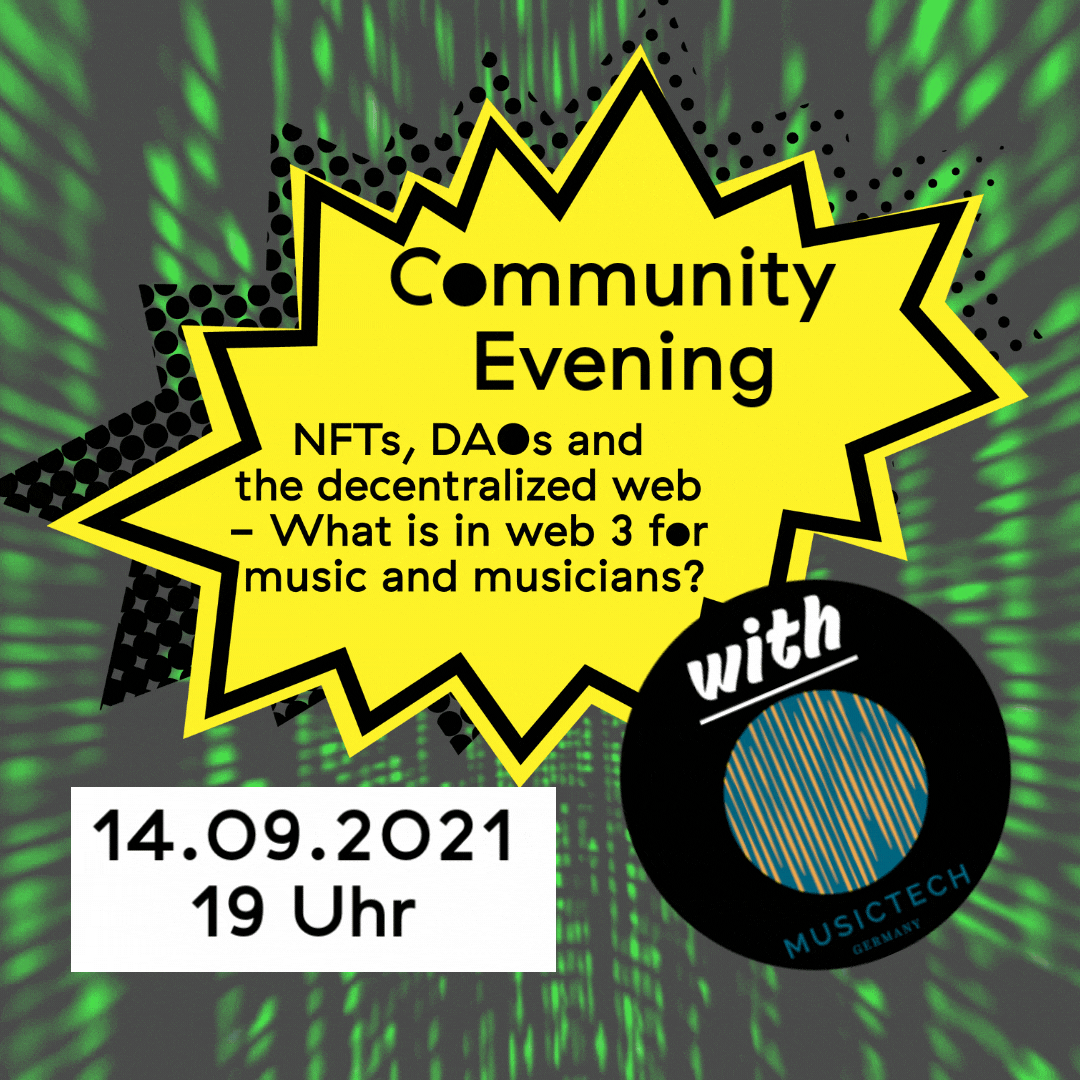 Entry is free, with registration: register here.
What are the current and future potentials of currently evolving decentralized web technologies for music, particularly from a musician perspective? This evening conversation shall give an introduction to and overview of the so called web 3 – and how people apply the technologies to music. We also aim to discuss potentials of the space for musicians and inspire imagination – and hopefully address all questions that you may bring to the table.
What exactly changes through web 3? What are NFTs (non fungible tokens) and DAOs (decentralized autonomous organizations), how do they work, and why are they interesting? How can they change how we make music available, make money, and organize ourselves in music scenes? What current applications are being built that are applicable to music? Do those techs hold yet again a potential to democratize and shift power structures, and what's different this time?
We hope to hold a conversation that is interesting to all of you who may have only heard buzzwords and want to understand more, as well as those who wonder if they should now publish their music as NFTs or have some ideas for organizing their scenes in a DAO, to those who are already building new tools and ways to organize.
After the talk, there will be drinks and music and space to connect and get to know each other - outdoors in the courtyard.
The conversation is organized in collaboration between Music Pool Berlin and Music Tech Germany.
We look forward to speaking with:
Mathew Dryhurst is an artist and researcher based in Berlin Germany. His research focuses on technical and ethical protocols. Together with Holly Herndon, he hosts the Interdependence podcast. He makes music and creates art with Holly Herndon, and their albums 'Proto' and 'Platform' (4AD) have provoked international critical acclaim. He teaches at NYU's Clive Davis Institute of Recorded Music, Strelka Institute and European Graduate School.
Oscar Atanga is a British-born Cameroonian electronic artist, producer, DJ, and creative strategist. He releases music under the moniker O.N.A. At the start of 2021, Oscar joined B.A.D. (Black Artist Database, formerly Black Bandcamp) as the Partnerships & Strategy Lead. Prior to moving to Berlin, Oscar worked in worked in London in entertainment marketing and artist management. Oscar also holds a Law degree from the University of Oxford.
**
DJ Set after the talk by:
Vio PRG (soundcloud)
**
Covid regulations: A proof of vaccination or recovery, or a negative Covid test of the same day is required and will be checked upon entry. Wearing a mask will be required indoors. Please register here, if you plan to attend. It's limited capacity, so please only register if you really want to come.