#Meetthecoach •• Georg Stuby
Posted on:

26 March 2020

By:

Eileen Möller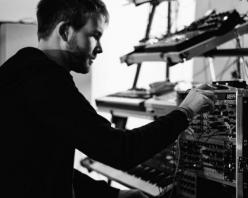 Georg Stuby has been making music for over 25 years. At first he didn't dare to build his life on it. That changed when he almost died in a car accident at the age of 22. After that he asked myself what my sense of life is. His answer: To enrich my life and the lives of others with music. Since then, he has performed as a DJ and live act all over the world, for example at Glastonbury Festival and Burning Man. He studied sound engineering and was trained by the best producers, mixing and mastering engineers. Georg is doing workshops for us for quite a while now. Next Wednesday he will do a Live Stream for us on Facebook about this topic, he was meant to do in mid March for us as a Workshop, which will be repeated after all this is over. So bear with us that in the Live stream we will not go into that much detail. That's why here is the interview we did with him before Corona changed it all.
As a producer he is working on his music every day and release several times a year on my own labels. Furthermore, many producers trust me with their mixdowns, including A-listers like Honey Dijon. As a coach he is helping music producers to strengthen their innate creative force, step into their power and produce the music of their dreams. A bachelor degree in Communications, Philosophy, Management & Economics, a trainer certification in Neuro-Linguistic Programming and several other programs around coaching, psychology and art build the foundation of his work.
A few years ago he was in exactly this situation:
He didn't know why his productions didn't sound like those of my idols
He has watched hundreds of YouTube tutorials and tried out many things, but without a huge impact
Even after buying tons of plugins and devices, the sound of my music hasn't knocked me off my feet yet he has often doubted himself and his music
His environment did not understand and promote the mindset for musicians and self-employed people. He had many existential fears and wondered if he could ever make a living from my art.
Today he is proudly saying that he has built up a business in the creative sector from which I make my living.
Why did you come up with the topic of your upcoming workshop?
Because I know from my own experiences how existential fear feels like. How limiting it is and how it blocks your creativity. During my own personal and artistic development I found a lot of tools that helped me to handle it in a healthy and sustainable way. The positive changes for my personal and business life have been profound. With this workshop I want to create this change for other creative minds.
How do you resolve your negative emotions to more positive ones?
Since this workshop is about existential fear I will answer this question in relation to the topic.
The way I work is a mix out of personal development and system-building.
On the level of personal development I utilize awareness-exercises that support humans in the short run and facilitate deeper mindset-shifts that support them in the long run. Experiencing more positive emotional states is a side product of a deeper understanding of the human experience. The deeper this understanding gets, the more time we spend in light and nice feelings. We are more OK with what is right now and are less worried about the future.
On the other hand it is important to answer questions like the following and to build systems based on your answers:
How do you create clients?
How can they pay me?
What accounts do I use?
What happens when the money is in my account? How much do I save? How much do I donate?
How do I manage my accounting?
In the workshop we will work on all these levels.
How can I avoid feeling overwhelmed and focus on my creative outlet?
First of all you can learn that feeling overwhelmed and the ability to do your work are two different things. Again you can work on two levels:
On the level of personal development you can learn more about yourself as a human being. This will lead to more trust in yourself and the world and fewer situations where you feel overwhelmed.
On the level of system-building you can develop a bulletproof creative-process. This will help you to create no matter what.
Thank you Georg for the Interview. We are looking forward to next weeks live stream and of course the Workshop in the future.