Navigating Corona Times
Tuesday, 12 May, 2020 -

19:30

to

21:00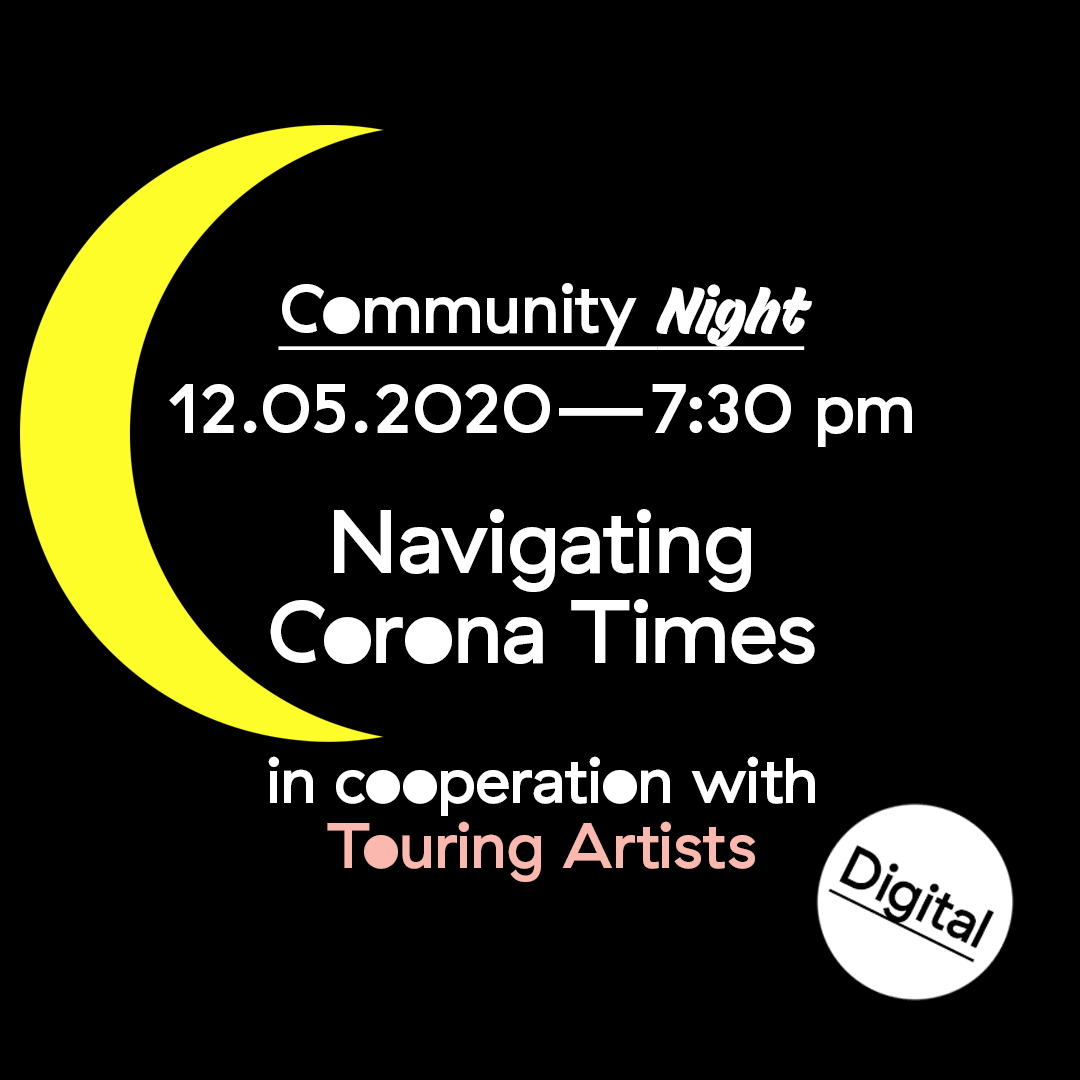 #Music #InternationalArtists #InternationalCulturalWorkers #InEnglish #NotSureIfCategoriesFit #Berlin
This FAQ Session and Community Evening aims to help navigate public and private support programmes and initiatives that help artists and cultural workers during Corona times in Berlin, discuss various administrative questions related to them (taxes, social security etc.), and share experiences and examples - in English. We are moving the Community Evenings for the time being to a digital space, to an online meeting room hosted on our own server, so that we can respect everyone's privacy as well as possible.
We would like to address the questions of artists and other self-employed cultural/music workers who have difficulties finding information which aid programme they might be eligible for, how to apply, or where to turn for support. In particular - people who don't speak German, who don't have a German passport, who may not be eligible for certain programmes etc.
As part of the session, we also aim to try and answer your questions related to how the aid programmes relate to other administrative frameworks, such as visa, unemployment benefits, taxes, Gema fees etc. (where we can of course, we probably won't know everything).
The session is organized as a Q&A, so there will be lots of time for you all to ask your questions – in chat format. And the answers will hopefully be relevant for many others as well.
Over the past few weeks, our colleagues at Kreativ Kultur Berlin have offered regular group FAQ sessions in German about the different financial aid programmes to help during Corona times for artists, self-employed and "Kleinunternehmer" in the cultural and creative scenes in Berlin – and we strongly recommend to participate in their sessions as well. However, there is not so much information available in English – hence the idea for this meetup.
The session is organized in collaboration between Music Pool Berlin and Touring Artists.
Speakers:
Sebastian Hoffmann - supervises the touring artists help desk service for internationally mobile artists. The touring artists help desk service is a cooperation of ITI Germany (International Theatre Institute) and IGBK (International Association of Art) with SMartDe – Netzwerk für Kreative e.V., supported by the Federal Government's Commissioner for Culture and the Media. In the music scene of Berlin, Sebastian is a jury member for Musicboard's support tour funding program, stages concerts as part of the collective Fourtrack on Stage at Schokoladen and brings to life the Down by the River Festival as one of the programmers and organisers. From 2012 to 2016, he was an agent at Paper & Iron Booking.
Berlin Collective Action: Nightlife Emergency Fund - The fund exists to provide emergency financial aid to at-risk nightlife workers in Berlin — those whose livelihoods have been severely impacted by COVID-19, and especially those who do not have access to other support systems. Many collectives and organisations active in music and nightlife have joined to stand in solidarity with the most vulnerable in the community, and try to provide some relief for those who are not eligible for state support, and so often fall through the cracks in times of crisis.
*
Organizational Info & Registration
We are currently setting up an online meeting space on our own server, according to GDPR guidelines, so your privacy can be fully observed.
While the server is being set up – please register, only with your email address, here, so we can send you the link to the meeting, once the server is up and running.
We will also post the link to the meeting space into this event, once it will be available.