Music Pool Berlin Community Evening - International women's day
Wednesday, 8 March, 2017 -

19:30

to

22:30
Aquarium, Skalitzer Str. 6, 10999 Berlin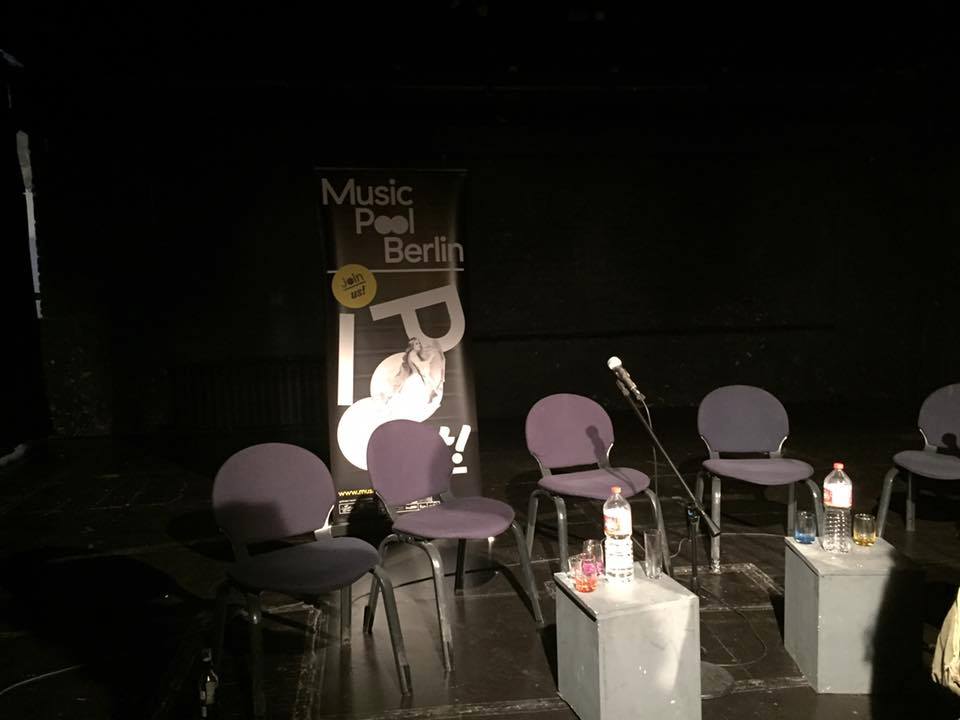 Music Pool Berlin and European Women in Music would like to invite you to a Community Evening on International Women's day: March 8, 2017 at Aquarium in Kreuzberg. (English,free entry)
The topic will be: Support structures and strategies in the music industry
Speakers: Mo Leschelder (Heroines Of Sound), Katja Lucker (Musicboard Berlin), Jana Sotzko (Soft Grid), Ziúr (DJ/producer/BOO HOO) +++ & DJ TBA.
Panel moderation by journalist/musicologist Stephanie Alisch.
In this panel, we will be looking at the support structures that women/female-identified people access (or provide) within the music industry. Questions for the panel include: have they experienced such structures, what were they, where did they come from, and how have they benefitted from them? Did they seek out the structures? Or did they happen organically? Alternatively: what do they feel is lacking? We'll also be looking at strategies of self-care and survival techniques.
Where: Aquarium, Skalitzer Str. 6, 10999 Berlin
U8 / U1 Kottbusser Tor
Language: English
Free Entry
Time: 7:30 pm
///////////////
STEFANIE ALISCH (MODERATOR)
Stefanie is a musicologist and DJ, with experience in the Berlin music (technology) industry (Jazzanova, Native Instruments, Ableton), as well as teaching DJing and radio workshops (including Haus der Kulturen der Welt, Hamburger Bahnhof, Arena). She was director of the project department "Groove: Rhythmus, Körper, Dialogizität" at the HU Berlin and is currently working on her PhD on Kuduro music and dance from Angola. She has conducted research and consultation for various international bodies, and lectured at home and abroad
MO LESCHELDER
After her studies at Duesseldorf Art Academy with famous painter Gerhard Richter, Mo Loschelder decided to move to Berlin, where she started to DJ and collaborate with visual artist Daniel Pflumm and electronic musician Klaus Kotai, organizing the clubs "Elektro" and "Panasonic", curating the music program at "Init", running the label ELEKTRO MUSIC DEPARTMENT and producing under the moniker Kotai+Mo, Los Dos, Mo feat. El Puma as well as her own name. She founded her own agency MEDIA LOCA, focusing on experimental electronic artists, such as Gudrun Gut, Lucrecia Dalt or Electric Indigo. She has co-produced several political/musical festivals as Perspectives, Festival, Continuity and Change and Heroines of Sound.
http://www.heroines-of-sound.com/
KATJA LUCKER
Katja is the managing director of Musicboard Berlin GmbH which supports actively the Berlin pop music scene. The Musicboard is responsible for organizing the Pop-Kultur festival under her lead. Katja started her career as an actress in Berlin in 1990 but quickly became successfully self-employed as a cultural manager. Her portfolio ranges from managing tasks at the 'Kesselhaus Kulturbrauerei' Berlin and the 'Karneval der Kulturen' to a work with as a project manager for creative industries during Ruhr.2010 – the European Capital of Culture or with Karlheinz Stockhausen at 'Haus der Berliner Festspiele'
http://www.musicboard-berlin.de/
JANA SOTZKO
Jana studied musicology and literature and completed the masters program "Sound Studies - Acoustic Communication" at the University of Arts in Berlin in 2011. She is part of several musical projects (Soft Grid, Epiphany Now, Dropout Patrol) and works as a freelance musician and author with a focus on sound, music and comics. https://www.facebook.com/thesoftestgrid/
ZIÚR
Is a Berlin-based DJ/producer dedicated to combining different sonic textures and brainy beats into a functional dancefloor framework. Ziúr self-released her first mixtape. Titled /xuːx/, seamlessly mixing seven instrumentals and two vocal collabs, with Brooklyn's Samantha Urbani & Dev Hynes (Blood Orange) and San Francisco rapper MicahTron. The tweaky follow-up single "Lips"and its video dropped just as Ziúr joined Peaches on a string of European tour dates. At the end of a busy year, Ziúr was selected by Fact Mag for their "Best Club Tracks of 2016" and The Fader as one of the "Artists you Need to Know About in 2017." Aside from all that she has shared a number of adventurous mixes online, including one with NYC's Discwoman collective or another with Resident Advisor, and she continues to co-organize BOO HOO (named one of "Berlin's best club nights" by Time Out and i-D). https://soundcloud.com/ziurziurziur
European Women in Music is a new Berlin based-European wide network, planning a programme of networking, mentoring, think tanks & discussion events, culminating in a conference to take place this November in Berlin. The November event will consist of a programme of workshops, panels, talks, showcases, dancing, discussing, goal-setting and manifesto-writing over 3 days, featuring participants from all over the world. Moving every year to a new city and country.
Add your voice - fill out our questionnaire: https://goo.gl/forms/fHp6IhxpZx3xYb8K2
*DJ Larry (Creamcake)
http://www.aqnb.com/2015/10/20/an-interview-with-creamcake/