Welcome back!
Posted on:

4 March 2015

By:

Eileen Möller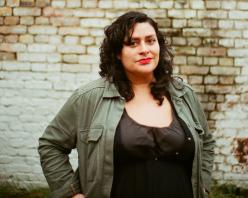 After her maternity leave we welcome back founding member Melissa Perales back into the team.
From now on she will hold the friday orientation consultings, which was Sebastian Hoffmann's part until now.
Melissa Perales moved from Chicago to Berlin in the 90s. Since then she has organized an international film festival, owned her own restaurant, and began booking and promoting live shows and film screenings under the moniker M:Soundtrack. As a concert promoter she presents international acts almost weekly in venues such as Schokoladen or Grüner Salon. M:Soundtrack has become a platform and meeting point within the Berlin independent music scene. Melissa is a boardmember of all2gethernow, a platform for new strategies in music culture and music business. Melissa's passion is soundtracks, therefore starting Supertape was the likely result: a music supervision and consulting company which she runs together with the documentary filmmaker, Sabine Steyer. Besides all of this Melissa is a supermom and a supercook. Melissa had the initial idea for Music Pool Berlin and was part of developing the project.
We are happy that she can share all her experiences with you.
At the same time we want to give a big hand to Sebastian, who will focus his career now more on his work at Paper and Iron Booking.
The end is the beginning is the end...
beratung [at] musicpoolberlin.net