Music Pool Berlin Instagram Advent calendar
Posted on:

29 November 2019

By:

Eileen Möller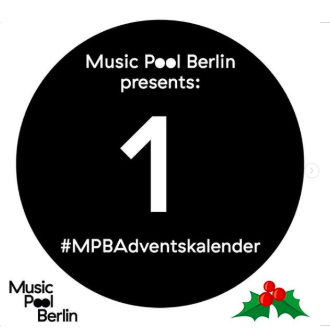 "It's beginning to look a lot like christmas." Here we go again, Music Pool Berlin presents the Instagram #MPBAdventcalender. Every day you can win special prices and goodies we've got sponsored by friends and colleagues from the House of Music companies and the Berlin music scene.
Look behind an instagram story "door" every day, for a chance to win one of our great prices. You have 24hrs to participate. We will let the winner know via story or direct messages.
Prices include:
50% discount to a premium rehearsal space from the Noisy rooms,
Bimm Berlin Masterclass
Music Pool Berlin Promo bag in black + MPB Friend Of Tasse 1x
Music Pool Berlin Promo bag in yellow +MPB FO Tasse 1x
Music Pool Berlin workshop
Music Pool Berlin coaching
Merchandise from companies like Vybebrothers,Truworks and Mod devices
1x hph-mt7 / Studio headphones sponsored by Yamaha,
1x reface CP / compact E-Piano sponsored by Yamaha,
2x2 Tickets for the Panteon Rococo show at SO36, 2x2 Tickets for sold out shows in February for Torbostaat sponsored by KKT GmbH
1x Elements Suite - Plug In Kollektion (Software) UVP 199€ by izotope
1x Spire - mobile Tonstudio for Songwriter and Musicians (Hardware) UVP 399€ izotope
Vinyl Calender 2020
Shure SE215 Wireless + one Shure Lanyard Sound extraordinary
and more.